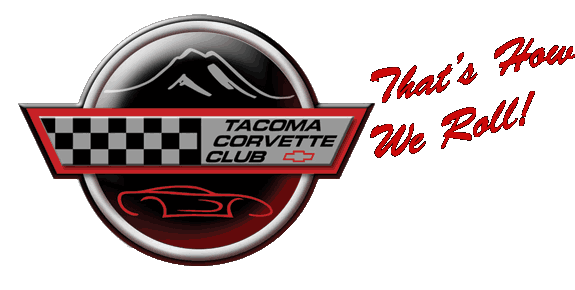 Welcome to the Tacoma Corvette Club
W
e hope you share with us the fun and enjoyment of driving America's finest road car. TCC participates in a variety of events and functions throughout the year that are chosen in the interest of our members. We invite you to consider becoming a member of our club, and find MORE FUN, EXCITEMENT AND INVOLVEMENT with your Corvette.
"Save the Wave"
Please Scroll Down for more Home Page Announcements & Links...Thank you





CANCELLED...

2014 Sunset Chevrolet All Corvette Show

The Tacoma Corvette Club has announced the cancellation of the
Sunset Chevrolet Showed scheduled for Saturday, August 2nd.

There may be plans for a show in September.

Wednesday
July 30

6:30 PM

(Please note new earlier date due to Sunset Chevrolet Show)
E-Board Meeting
Corvettes of Auburn
3401 C Street NE - Auburn, WA 98002
Friday
August 1


6:00 PM

7:00 PM



Pre-Meeting Barbeque begins at 6:00 PM
(We'll have the hot dogs & hamburgers ready for you)
Membership Meeting at 7:00 PM

Saturday
August 2


CANCELLED...

Tacoma Corvette Club and Sunset Chevrolet All Corvette Show


Saturday
Aug. 9
Meet at the Tacoma Mall Krispy Creme at 10:00 AM. Departing at
10:15 AM
Drive to Westport for the Westport Brew Festival. The "Keeping It Coastal" Brewfest features craft beer from Washington & Oregon. Westport Brewing Company is helping organize the event which will benefit the local VFW and its agencies.

Download the: Informational Flyer and the Brewfest Invitation...
Led by:
TCC Past President
Chris Rucker
Wednesday Aug. 27
6:30 - 8:00 PM
"Tunes at Tapps" Concert at Lake Tapps - Allen Yorke Park. We have been invited to display our corvettes during the Great Pretenders concert. Bring a lawn chair and a picnic supper. Meet at Ed Lynch's house at 5:30 PM to caravan to the concert.
Driving directions to Alan Yorke Park...
Get Directions to
Ed Lynch's House...
253-278-1018
Watch our Home Page and check out the Events Calendar for more upcoming events...
We will post more events as room becomes available...please check back often.