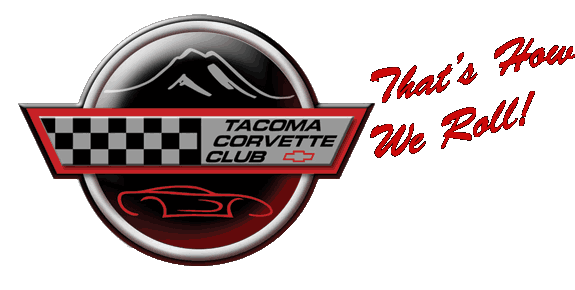 Welcome to the Tacoma Corvette Club
W
e hope you share with us the fun and enjoyment of driving America's finest road car. TCC participates in a variety of events and functions throughout the year that are chosen in the interest of our members. We invite you to consider becoming a member of our club, and find MORE FUN, EXCITEMENT AND INVOLVEMENT with your Corvette.
"Save the Wave"
Please Scroll Down To The Bottom of the Page For More Links To Our Web Site...


Saturday
July 29

Meet at Corvettes of Auburn at 4:20 PM. Depart at 4:50
Emerald Downs 80's Night - TCC has been invited to display our corvettes inside the building on the concrete between the track and the grandstand. Admission is free for driver/passenger. Free passes for family/friends. Special pricing for food/bev. Naming a race in honor of TCC. 10 TCC members will be escorted to watch horse being saddled & to Winners Circle for photo opt.
First Race: 6:30 PM Out by: 9:30 PM
Contact:
Brian Fitzpatrick
briancfitz1024@hotmail.com

253-670-1718
Wednesday
August 2
6:30 - 8:00 PM
"Tunes at Tapps" Concert at Lake Tapps - Allen Yorke Park. We have been invited to display our corvettes during the Great Pretenders concert. Bring a lawn chair and a picnic supper. Meet at Ed Lynch's house at 5:30 PM to caravan to the concert.
Driving directions to Alan Yorke Park...
Get Directions to
Ed Lynch's House...

253-278-1018
Saturday
August 5
We will be leaving from Corvettes of Auburn at 8:00 AM

$12.00/person
Pre-Paid Please

VFW Drive & Breakfast
The Tacoma Corvette Club has been invited to join the VFW in Redmond for a Saturday morning breakfast in appreciation of our club's continual support of their Troop Support Program. We will be displaying our corvettes.
Contact:
Mary Nye Meyers
fire_n_ice104@hotmail.com

253-224-8592
Tuesday
August 8
6:30 PM
E-Board Meeting
Los Cabos Mexican Restaurant
1316 Outlet Collection Way
Auburn, WA 98001
253-931-0015
Friday
August 11
6:00 PM
Barbecue

7:00 PM
Meeting
Pre-Meeting Barbeque begins at 6:00 PM
(We'll have the hot dogs & hamburgers ready. Please bring a side dish to share...)

Membership Meeting at 7:00 PM
Get Directions

Only the most current TCC Events are posted to our Home Page.

Please check out our Events Calendar for more events and other corvette club events too.
We will post more events as space allows...please check back for the latest updates.