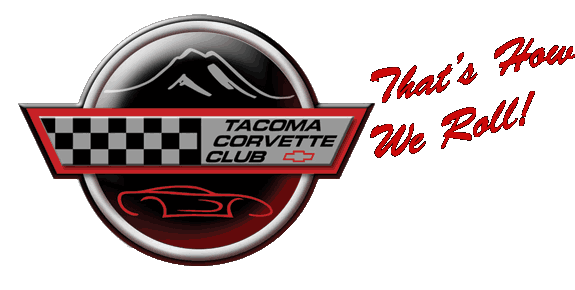 Welcome to the Tacoma Corvette Club
W
e hope you share with us the fun and enjoyment of driving America's finest road car. TCC participates in a variety of events and functions throughout the year that are chosen in the interest of our members. We invite you to consider becoming a member of our club, and find MORE FUN, EXCITEMENT AND INVOLVEMENT with your Corvette.
"Save the Wave"
Please Scroll Down To The Bottom of the Page For More Links To Our Web Site...

You are invited to the 2nd Annual Gamblin Chevrolet Corvette Show

Saturday, September 10, 2016




Gamblin Chevrolet
1047 Roosevelt Ave East Enumclaw, WA 98022
Come out and support our new sponsor

Download Your Forms:

Sunday
Aug. 21

Meet at Corvettes of Auburn at 11:30 AM
Emerald Downs Horsepower Weekend - TCC has been invited to display our corvettes inside the building on the cement between the track and the grandstand. Attendance is high on Sundays, admission is free and there are all kinds of activities during the day. We will have complimentary tickets for friends & family of TCC members.
Event hours: Noon - 6:30 PM
Contact:
Brian Fitzpatrick
briancfitz1024@hotmail.com
253-670-1718
Wednesday Aug. 31
6:30 - 8:00 PM
"Tunes at Tapps" Concert at Lake Tapps - Allen Yorke Park. We have been invited to display our corvettes during the Great Pretenders concert. Bring a lawn chair and a picnic supper. Meet at Ed Lynch's house at 5:30 PM to caravan to the concert.
Driving directions to Alan Yorke Park...
Get Directions to
Ed Lynch's House...
253-278-1018
Wed.
Sept. 7

6:30 PM


E-Board Meeting @ Corvettes of Auburn



Get Directions
3401 C St NE, Auburn 98002
Friday
Sept. 9

6:00 PM


7:00 PM
Pre-Meeting Barbeque begins at 6:00 PM
(We'll have the hot dogs & hamburgers ready. Please bring a side dish to share...)

Membership Meeting at 7:00 PM

(Nominations Open for the E-Board)
(Begin $75.00 Collection of Yearly Dues through November 15th)
Download the Dues Renewal Form... (Coming Soon)
Take me to the On-line Dues Renewal Form... (Coming Soon)


Get Directions



Sat.
Sept. 10
Opens 9:00 AM
Lunch at Noon
Awards at 1:30

Mark Your Calendars for the 2nd Annual Gamblin Chevrolet Corvette Show... Come out and support TCC's sponsor.


Download Your Forms Here... Show Flyer
Registration Form
Show Instruction Sheet

Wednesday
Sept. 21
Meet at 6:30 PM


TCC Wednesday Night Dinner at the Rainier Bar & Grill
Hooray...Wednesday Night Dinners are Back!!! Family owned and operated, the Rainier Bar and Grill is THE Enumclaw gathering place for friends, families and business people.
Located in the heart of downtown Enumclaw. Check out their web site...
Rainier Bar & Grill
1625 Cole Street
Enumclaw, WA. 98022
360-825-6363
Driving Directions...

Only the most curent TCC Events are posted to our Home Page.
Please check out our Events Calendar for more events and other corvette club events too.
We will post more events as space allows...please check back for the latest updates.